Pecans Nutritional Information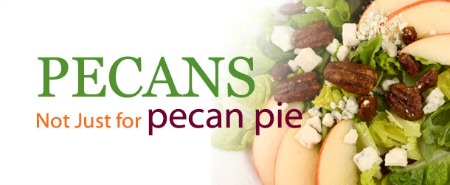 Pecans…Pecans…everywhere and more than enough to share! Who knew that Pecans could be a tasty addition to desserts and meals? Plus deliver a daily dose of health into your life! The wonderful world of Pecans has so much to offer, start experimenting with pecans today!
Pecans can be used interchangeably with other nuts like almonds and cashews. They can be grinded, sprinkled, topped and toasted just to name a few! Pecans are most known for delivering energy throughout the day by holding an abundant about of fiber in each morsel. Head over to our recipe page to print off some amazing, mouth watering Pecan Recipes for you and your family.
Scientific evidence suggests but does not prove that eating 1.5 ounces of most nuts (such as pecans) as part of a diet low in saturated fat and cholesterol may reduce the risk of heart disease.
For more nutritional information, you can visit I LOVE PECANS